After spending a grey and wet day trying to put some miles on without getting soaked, a sizeable nail through the back tire put an end to my 100-mile ambitions at around six pm. it was getting dark, and i hadn't passed a seedy motel in ages. Best Westerns and Holiday Inns there were aplenty, but sadly it looked like I was about to venture beyond the land of the thirty dollar special, with only Albert and Brigette to show for it. After patching my the tire and getting back on the Publix-IHOP-Walgreens-Burger King-Marathon-7/11-CVS conveyor belt, i started to wonder just where i would spend the night. i was loathe to part with 100 bucks to sleep in a sterile box with cable.
i did have another option. despite coming under fire from various parties, i've been toting a hammock under the vaguely delusional notion that i might be able to do some camping, save some readies, etc (after all, I am unemployed and with few prospects). ever since a rather soggy conversation in India with Uncle Howard about the merits of a Hennessey Hammock, getting one has felt a little bit like destiny. i mean, the thing weighs 1.1 kilos and you don't need any tent pegs. how cool is that?
sadly, it's been looking rather like i wasn't going to get the chance to use it. Most of the trees in Florida seem to have been cut down to make room for RV parks, and most of the RV parks don't seem to have anything else you can tie a hammock to. it's strictly back in, and hook up, open a Busch and say hello to the neighbors. This has been double disappointing, since i vowed to recoup the cost of the damn thing through savings on h/motel rooms. using campgrounds, that would take eighteen nights assuming a cost of $20 per night. with the but only 4 nights of Siwashing. so you can see the attraction of some bush whackin'.
So anyway, i thought i would warm myself up to this. coming off the road after 80-odd miles is a pretty smelly business. showers tend to be uppermost in your mind at the end of the day. and that is where i was heading. the legs hurt, and i was in need of a good dousing. but then i saw it. the perfect road. paved but turning quickly to gravel. leading to nowhere. on an impulse, i turned and followed it down to where it ended at a small power substation (if indeed that's what they're called). behind that was rather promising and abandoned stand of trees (i had noticed that the 2 acre lot was for sale as i rolled in). a quick three minute bushwhack into the forest, and there was a grove of conifers, largely hidden in the bushes. perfect. i charged in, and got busy making fool of myself setting up the hammock for the first time. thank god i didn't attempt it in an RV park. they would have sold tickets and hot dogs. I managed to tie the last knot just as it got proper dark, then i bush whacked my way back out of there, hopped on the bike, and cycled over to the mall for my usual evening shop of fruit, a single tin of beer, some muffins, and a bottle of this mysterious (but delicious) liquid called muscle milk*.
Then, looking for somewhere i could plug in the laptop, i wandered into an unassuming Pizza shop, and was greeted by Carlos, a Portuguese ex-pat who had moved to Port St. Lucie via Mozambique and New York. he had one hell of a life story to tell, and wasted no time in telling it – plying me with various freebies ('garlic knots' anyone?) to keep me in my seat talking about english football. i was there until eleven. he liked the idea of the trans-florida bike ride, and when he asked where i was staying i mumbled something about the Best Western up the road. "that's a shame. you could have come round to mine. met the kids."
i smiled and thanked him gratefully, then excused myself for a date with the bush…
next morning: i.e. after a sleepless interval
you would never guess that it would get so bloody cold overnight here in florida. or maybe you would. it is the beginning of march, after all. i spent the night trying to wrap myself in every last bit of clothing within reach, then tossiing fitfully as i dreamed of helicopters pounding the air overhead, scanning the forest with heat sensing cameras. i'm not sure if i managed much sleep proper, but eventually the sky did start to get brighter. i did some extra strength shivering in an attempt to get up enough heat to exit the cocoon, then hauled myself and my several loads worth of gear back out to the road. there were a few quizzical glances from the morning's first shoppers, but i just smiled and waved, trying to keep my hand low and my nose averted….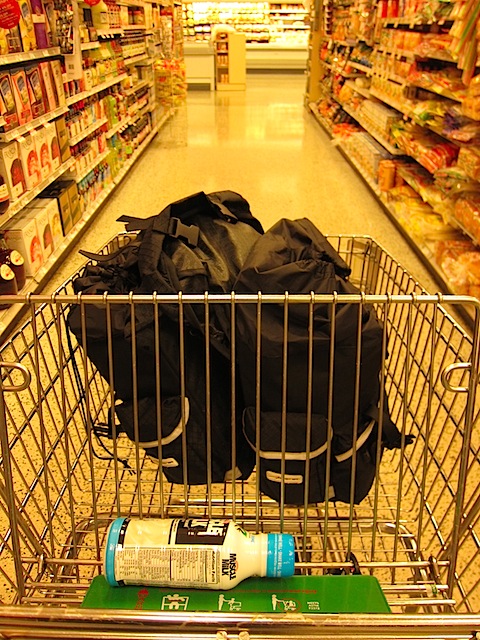 * Muscle Milk: contains no milk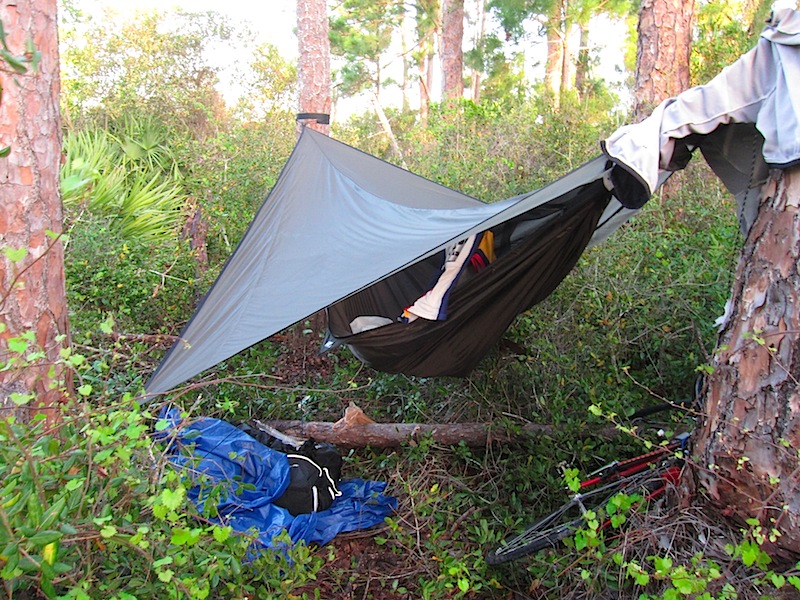 a perfect night's accommodation. email me direct if you want GPS co-ordinates.