Tamiami Corner – HWY 41 – 4:30pm
08/03/2011
I really wish I hadn't asked Eddie, the guy at the Subway, if he knew anything about Highway 41 going west through the Everglades.
"Gators," was his first word "People tend to carry a stick so that you can push 'em out of the way."
After much deliberation about where to spend tonight, having discussed several options with various bikers and truckers, called around local hotels called things like the Micosukee Resort  I finally decided to try and make a go of crossing the Everglades, with a likely bivouac when it started to get dark.. Last night's bivouac in Key Largo had been unplanned. I took a sneaky whiff of the local atmospheres and instantly regretted it.
I was hoping that Eddie's words would confirm my suspicions about advice you got in Florida. The more confident and knowing the tone,  the more likely it was to be a complete pile of fiction. I was in my current predicament for exactly this reason:
"Do you think I'll find many hotels up around Tamiami Corner?"
Mexican Chef guy: "Oh yes. Many hotels. Very cheap."
I somehow doubted that by 'many' he meant the Miccosukee Gaming Resort, and by 'cheap' he meant $175 per night.
And here was Eddie wanting to know what else to put on my sandwich. "Ummm…Lettuce, please. And some olives. Now, when you say alligators…."
"Oh and pythons too. And don't wear any scent. No cologne or nothing. The insects will eat you alive. Anything else on the sandwhich?"
"Emm….nope. That's it." I had a brief picture of what it might mean to be the middle bit in an Everglade sandwich; strung up in my hammock, fighting off pythons from above and alligators from below. "Thanks Eddy."
I felt the bottom drop out of my stomach and reminded myself to steal some toilet paper from the bathroom.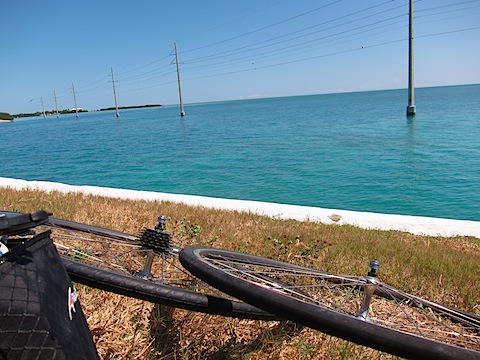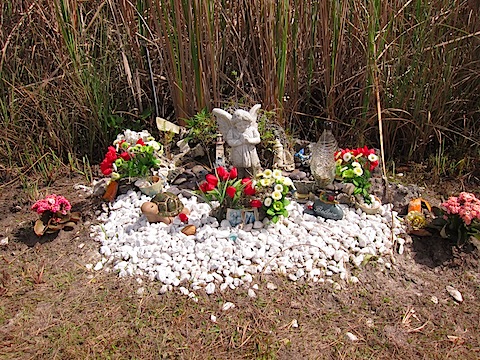 The Everglades – At Camp
A few words while there is yet light and wine, and the residual buzz from Henry Miller in full bombastic flight in Tropic of Capricorn. I feel I should at least try to capture something of this feeling. Dusk is closing in and my heart is still racing from a fearful twenty mile sprint west into the Everglades. Would I find a place to stop? Would I get pulled over by the police and asked where the hell i thought i was going (the map showed very little ahead for the next 60 miles)? would Eddie's talk of Gators and pythons prove true?
So here I am, about a hundred yards back from the road and once again the lonely power substation has come to my rescue. I'm currently trying to ignore some crackling sounds in the bushes behind me, but now (thanks again to Eddy) at least i have got a big stick to hand. At any rate, for much of the twenty mile sprint, there looked to be very few places where I could sling a hammock without having to hang my arse a few feet over the water. The image of an alligator biting of me through the hammock had already replayed itself a few too many times in my head to make a comfortable sleep likely.
to make matters worse, the bugs have started coming out in fearsome numbers and the crackling sounds in the swamp behind me are getting louder. one sec. i think i need to hitch the hammock up a few notches….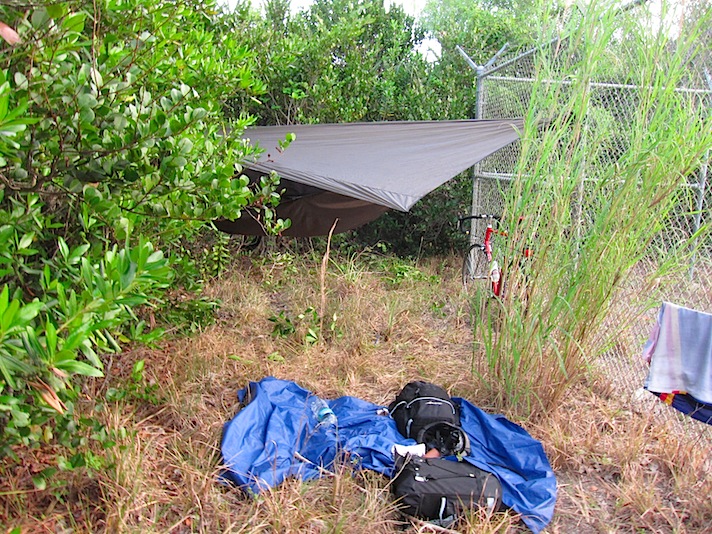 9-3-11
The Everglades – Siwash #3
One of the most terrifying dreams I've had in years. Should have known how it was going to unfold, given that I pretty much spelled it out last night. I dreamt that I had actually woken up in my hammock as I was being attacked by an alligator. It felt so real because the dream was happening in the place where I was sleeping. The Gator was attacking from the swampside of the hammock, the precautions I had taken in hoisting it even higher had not taken into account the animal's 'rearing capabilities' and in my dream the bastard was snapping away at my ass with gusto. I kept tring to scramble into a kneeling position – never easy when you're in a hammock — and i couldn't be sure whether it was my real legs or my dream legs that were failing me. I woke myself with my own terrifyied moaning, then passed the rest of the night in that interminable state which is neither sleeping nor wakefulness. As the night deepened a heavy dew fell, and I could feel my arse (still sensitve, no doubt, from its imagined mauling), growing chill with the condensation it was attracting through the hammock. In short, not a restful night.
Had I known that I was a mile from the Miccosukee restaurant, I might have put off eating breakfast, but have now piled on a follow-up of eggs, coffee and pancakes to the soggy half-sub that Eddy made for me while predicting my imminent demise last night.
Interesting to see a few Indians around in more traditional dress. There is an old tribal lady here in a colourful beaded denim skirt, and long white hair who carries herself with incredible bearing and dignity. A lot of the other Indians in the restaurant, both workers and customers, have wandered over to pay their respects.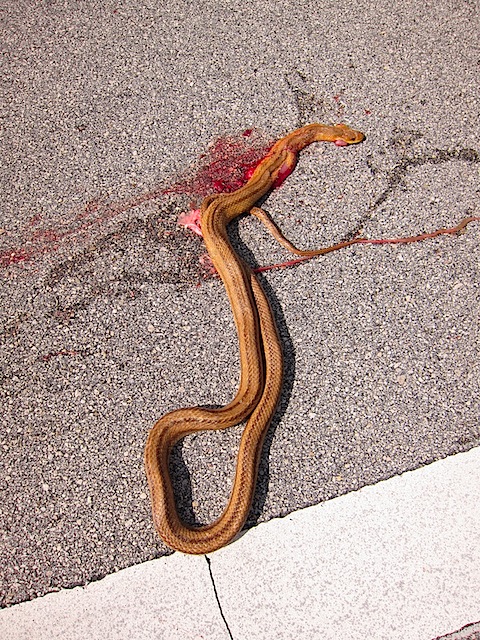 always look both ways….
Music
For days the iGod has been serving up a right old mishmash of tunes, but with a rather quirky – and some would say inspired — bias towards Talking Heads, especially given Mr Byrne's well-documented bicycle fetish. In the last few days we've had 'And She Was,' 'Psycho Killer', 'Nothing but Flowers', 'Once in a Lifetime' and many others, surfacing with seeming randomness from a collection of 20,000 songs (sadly, not 'Burning Down the House' which may have disproved my theory) .
Out of loyalty to David (and his rather excellent Bicycle Diaries) I was reluctant to give the Heads the old Tramp's shuffle, but the truth is, they are just not the right tempo for someone straining to get every last calorie out of their aging legs. Then today, as if I needed to ride six hundred miles to discover the answer to this pressing question, I finally stumbled on the perfect cycling music, buried so deep on my ipod that I had forgotten it was even there. And at just the right moment, since I had just hit a 40 mile stretch in the Everglades without any hint of habitation, let alone someone who would sell me a Gatorade.
What was this magical noise, you ask? Only The 808 State Radio shows from 1992. 140 BPMs of low fi, old school, hard core raving. Still kicking around up there, so here's a link.