Day 3 – Port St Lucie => Pompano Beach
Jupiter – Macdonalds
I keep passing the same strange looking dude.  He's wearing floods, carrying a bible in one hand and a jerrycan in the other, and i've seen him three different times at intervals of ten miles or more. He's always walking slowly on the same side of the road, at least half a foot of bare leg sticking out below his jeans, lurching along, impervious to the roar and stink of the traffic.   How does he keep overtaking me? It's either hitchhiking or armageddon. If it's the former, i have to ask:  who the hell would pick up someone looking as crazy as that?
Now I'm eavesdropping on a hilarious conversation between a bunch of old people having their usual MacDonalds chinwag.
One old codger, dyed hair, and insistent voice – identified by several around the table as a lawyer, and fairly obviously so – keeps saying to one them 'You're interrupting. You're interrupting. You're interrupting.' Until the poor guy he was browbeating (a reverend, from what I can gather) finally subsides into silence.
'Now let that be the last time you interrupt. Because I'm trying to help you here. I'm trying to help you not make a fool of yourself. Get possession of the facts before you open your mouth. Then you won't make a fool of yourself. And no one wants to see that, because we all love you Reverend."
Talk about sweetening the poisonous barb!
The same asshole has just walked out making a fist and urging everyone to 'seize the moment.'
Thankfully, nobody seems as perturbed by this display of Sheenishness as me. In fact, they seem kind of inspired by it, since they've now moved on to Charlie himself.
'One of those girls looks like a porno star!'  'She can't be older than eighteen'. 'He's a confirmed dope addict.'  In the absence of the law, they seem pleasantly scandalised.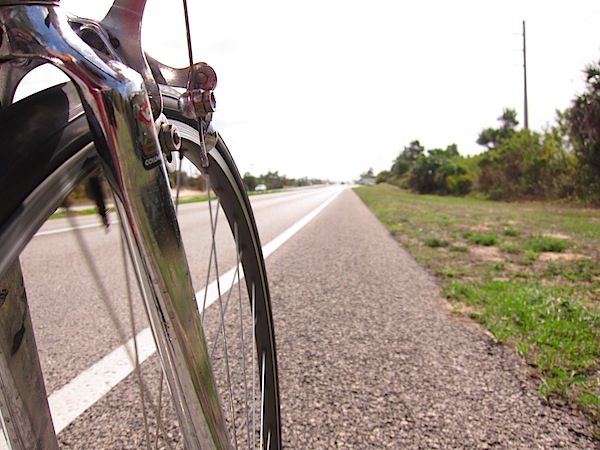 Miami subs – Briny Breezes/West Palm Beach
It would seem the rich have no use for 7-11s. Or Publix, or any of those other institutions I have come to depend on. Instead, they spend inordinate amounts at places called The Ice Cream Club, or Thaiku sushi bar.
I rolled through ten miles of west palm beach, and all I saw were mansions, flash boats, and unsmiling dog walkers. Originally intending to take the Ocean Road (A1A) all the way to South Beach Miami, I only lasted half an hour before crossing the bridge back to US1. As roads go, I think we're much better suited to each other (though early signs are that the Old Dixie Highway could be making a bid).
Throughout the trip down, I have been exchanging at least some form of acknowledgement with other cyclists. In South Palm Beach? Nah-unh. I passed several mini-pelotons of lycra-clad rich folk, straining away atop their expensive carbon bikes, impassive behind their Oakleys. Not one of them cracked the slightest smile, let alone ventured a response to my wave. I never thought courtesy was soluble in money.
Otherwise, today's ride has been a tough one. It doesn't help waking up freezing in grove of dead trees just off the highway, your last shower 24 hours behind you. It feels like I might be curing myself slowly of this cycling habit. My arse has started pleading with me to stop, and my lower back is none too happy either. The fingers in my left hand are numb, and my right wrist feels like I've wronged it in some mysterious way. Worse yet, the rear hub has started clicking in fairly ominous fashion.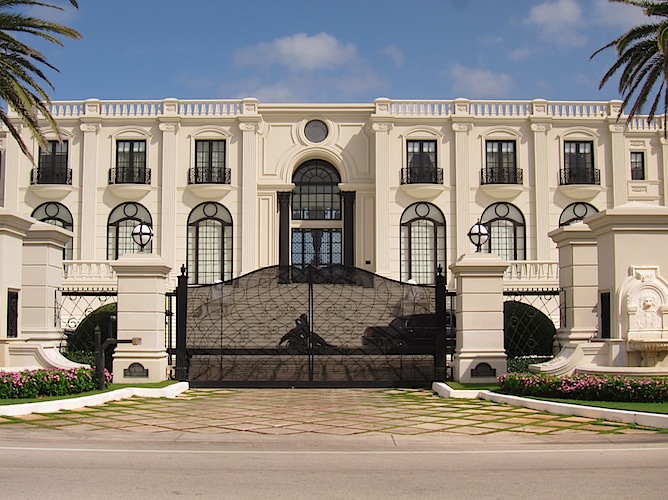 better fix up the guest house
Day 4 –
Pompano Beach => Homestead
Anu, the manager of this hotel hails from Bombay, and despite the intervening pane of bullet-proof glass, we got to talking. I asked her if there was anywhere in town to get Indian food, since I am truly, deeply missing it. She smiled but said nothing, just adjusted her headscarf and gave me my key. Then, fifteen minutes after i checked into my room, the phone rings. It's Anu. She's cooked me a fish thali, complete with curd, okra and gulab jamun. And it's positively delicious. I find I'm at a loss to convey the depth of my gratitude. When i try to thank her, she points heavenward. "He provides."
Today is definitely a day for feeling grateful. Here are a few people and reasons.
The Missus. She goes at the top of any list and for obvious reasons.  Miss you baby.
Uncle Cory. for pointing out the obvious flaw in my plan to get an Ipad for navigational purposes. Something along the lines of "I can see an ipad being a fairly awkward fit on the handlebars." As a result of opting for something handlebar mounted, I positively skipped through Miami, taking a road to the west of the city (only saw two polic busts) and was then routed through a lovely part of town to the south on the Old Cutler Rd. (This was another neighborhood  dripping with wealth, but much more understated and classy than what was on display in West Palm Beach). so thanks to Uncle Cory.
Anu – the lovely lady from Bombay who was happy to talk about India while checking me in, and hearing I was missing the food, cooked me up a thali on the spot!
Enzio – the mechanic at P&J bicycles who tried that little bit harder to find the obscure campagnolo tool that would allow him to get my rear freewheel off to overhaul the hub. And, after a fairly involved tussel, got a new set of bearings in there, and only charged me twenty bucks.
And Me, for finally bothering  to look at the elastication in my cycling shorts (Steve, you'll be glad to know that, although they are lycra, I keep them well concealed). A bit of pre-emptive snipping round some of the foam and a healthy slathering of suncream around the (ladies, look away now) nether regions, et voila! No nappy rash!
It's been a good day.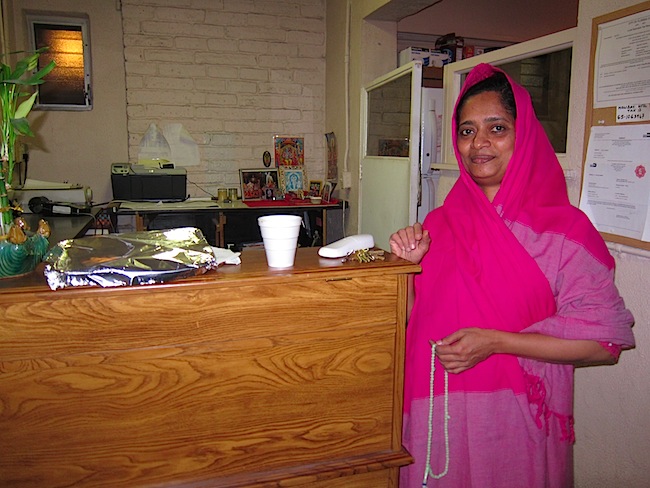 Beyond the call of curry.